Request A Free Pest Control Inspection
Do you think you might have pest or rodent problems? We'd like to offer you a free pest control inspection of your property today and create a plan to remove all pests and keep them away ongoing.
One of our experienced and professional pest control technicians will survey your property and make recommendations to keep you pest-free for no charge.
This free pest control inspection is just another way that Tri-X Pest Management is not like the other guys. We're a family-owned local business that cares about our community. We do such an amazing job that one of the largest real estate websites in the world had us talk about keeping homes pest-free.
Call us at (702) 533-6419 or send us a message using the form below.
TOP RATED CUSTOMER SERVICE
At Tri-X Pest Management our highest commitment is to ensuring complete and total customer satisfaction. 100% Effective, guaranteed.
EXPERIENCED AND LICENSED
We are licensed and trained by the Nevada Department of Agriculture. Our staff has over 18 years of experience and training in exterminating and removing unwanted pests.
FAMILY AND LOCALLY OWNED
At Tri-X we are a family owned business that believes supporting our local Southern Nevada community is important. We often sponsor youth sports teams, donate to charity, and more.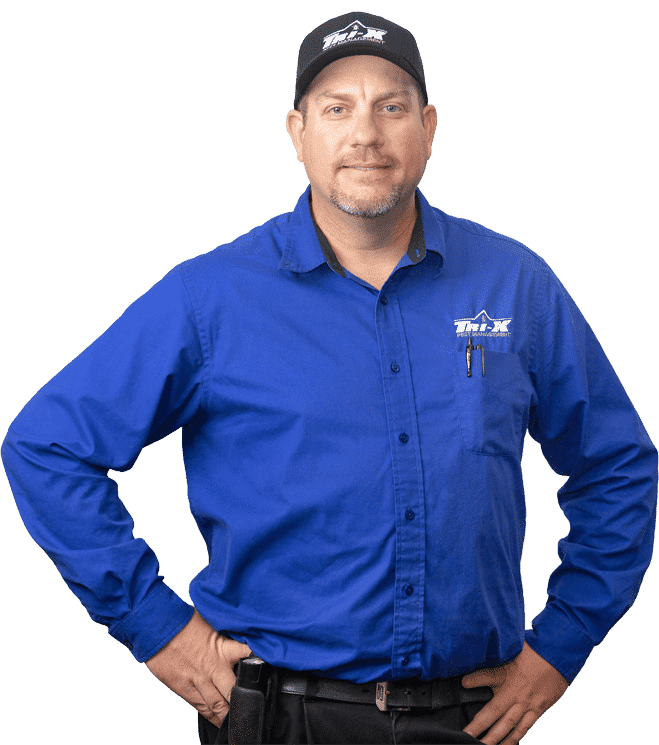 We know, there are a ton of Las Vegas pest control companies in the Las Vegas area. It can be hard to find one that's reliable and offers a fair price. Rest assured, with Tri-X Pest Management you get both and all backed by a 100% Satisfaction Guarantee. We are proud to have the experience and customer service that sets us apart from the competition.
1. Our staff of pest exterminators is friendly, knowledgeable, and fully licensed.
2. We understand the behaviors of ants, scorpions, cockroaches, rodents, spiders, pigeons, and all other pests.