Solar Panel Protection
Are solar panels on your roof being damaged by pesky pigeons? If so, it's time to turn to the experts at Tri-X Pest Management. Our solar panel protection service will keep solar panels safe from pigeon damage and excrement with our critter guard netting, bird spikes, and more. We can also clean up any existing pigeon mess that has already caused damage to solar panels. With our help, you'll be able to get rid of those pesky pigeons for good!
Our team of pigeon pest control experts have been excluding pigeons from homes, protecting solar panels, and keeping HVAC units clear for over 20 years. We're licensed, insured, and offer a 100% satisfaction guarantee on our services.
Do You Really Need Solar Panel Protection?
Solar panels perch perfectly a few inches off of the roof of your home, providing pigeons with just the right amount of space to dwell underneath them cozily. This room allows for several of these birds to hang out simultaneously, giving them shade and shelter from potential predators. In addition, the height and location of these solar panels is an ideal spot to land and take off. Solar panels are the perfect places for pigeons to build a life, given that they are safe and sheltered.
Pigeon excrement is extremely acidic and can actually break down your solar panels and roof. In addition, they carry more than 10X the amount of disease than rats. The nests that pigeons build in the shelter of solar panels also attract many other pests, including insects, rodents, and other birds. Leaving these vulnerable and unprotected can lead to an infestation quickly.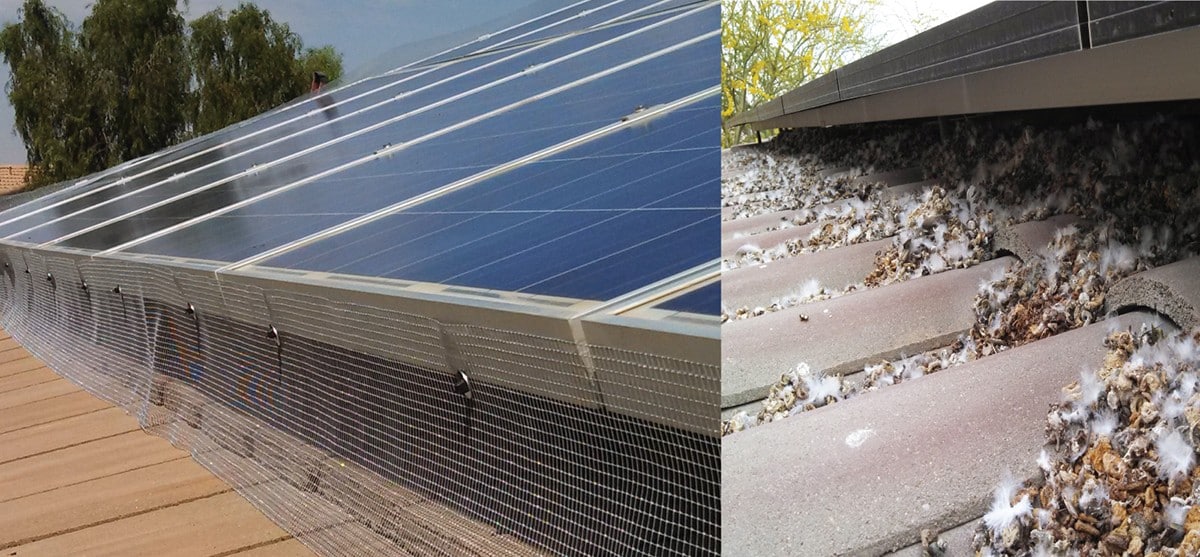 Types of Solar Panel Protection
The most common solar panel protection services offered by Tri-X Pest Management include critter guard netting, bird spikes, and solar panel hoods. Critter guard netting is a strong mesh material that is installed around solar panels to prevent birds from perching or nesting on them. Bird spikes are small metal strips that can be secured to solar panels to deter pigeons and other birds away. Solar panel hoods are also an effective solution for solar panel protection—these hoods are designed with overlapping pieces of plastic or metal that fit the shape of solar panels and prevent birds from accessing them.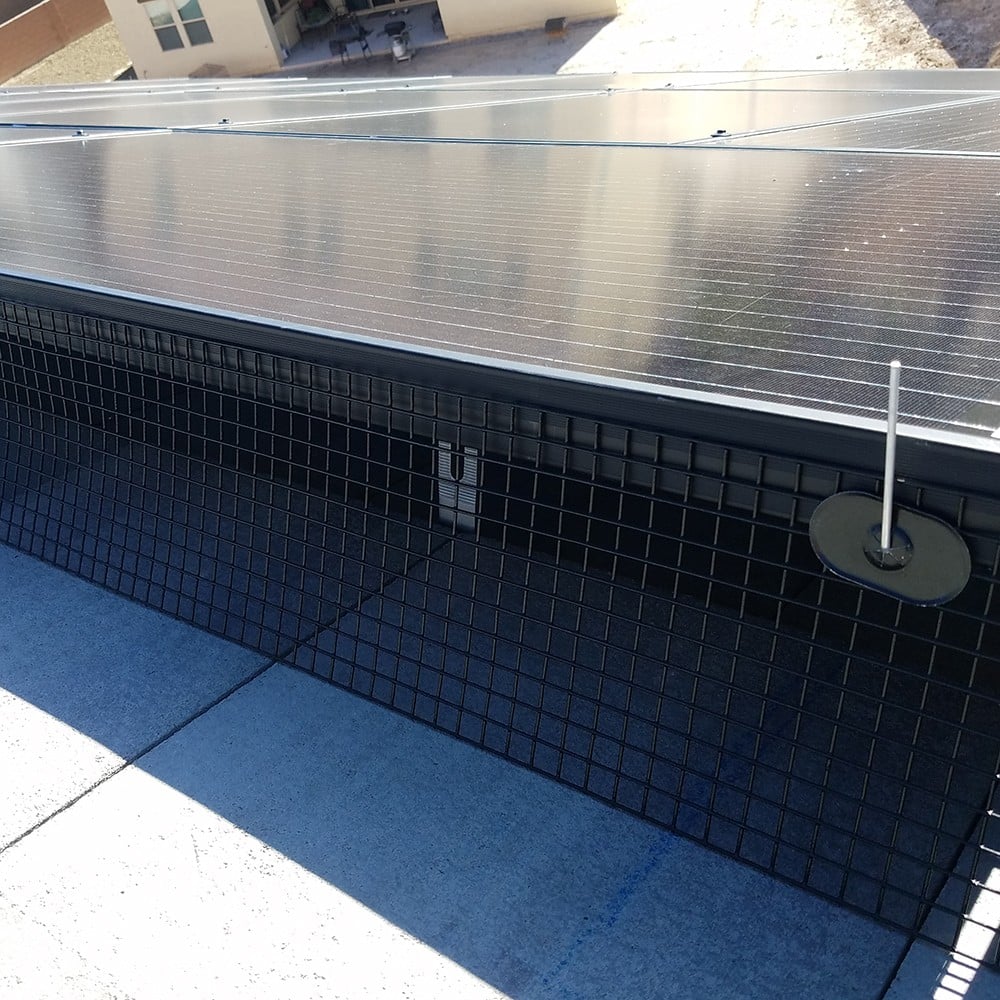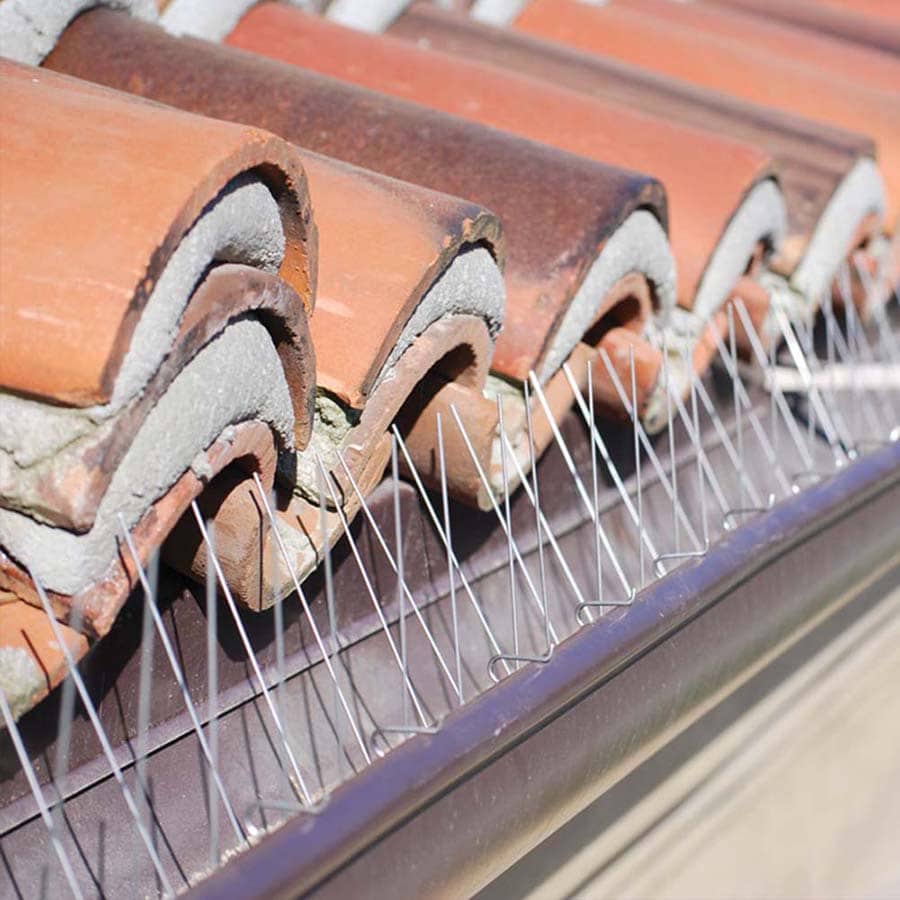 These options are not the only two and are not meant to be an exclusive list. These examples only display a couple of methods we use to protect solar panels from pesky pigeons and other wildlife. We know that not every residential and commercial building is built the same. Each has its own unique challenges and construction, so the methods used will vary depending on the situation.
Don't DIY or Settle for Less, Get Tri-X!
DIY solar panel protection can be a risky choice, as it may not provide effective results and could cause costly damage in the future. Professional solar panel protection services from Tri-X Pest Management can guarantee efficient and long-term results to get rid of pigeons without compromising on solar panels' aesthetics.
Our experienced techs have the necessary skills and expertise to install critter guard netting, bird spikes, and more with minimal hassle. Our solar panel protection solutions are built to last for years despite adverse weather conditions and UV rays.
We offer a 100% satisfaction guarantee on our service. So if for any reason you're not satisfied, we make it right. Our service will save you time, save you money, and protect your large investments, and we guarantee you'll be happy.
TOP RATED CUSTOMER SERVICE
At Tri-X Pest Management our highest commitment is to ensuring complete and total customer satisfaction. 100% Effective, guaranteed.
EXPERIENCED AND LICENSED
We are licensed and trained by the Nevada Department of Agriculture. Our staff has over 20 years of experience and training in exterminating and removing unwanted pests.
FAMILY AND LOCALLY OWNED
At Tri-X we are a family owned business that believes supporting our local Southern Nevada community is important. We often sponsor youth sports teams, donate to charity, and more.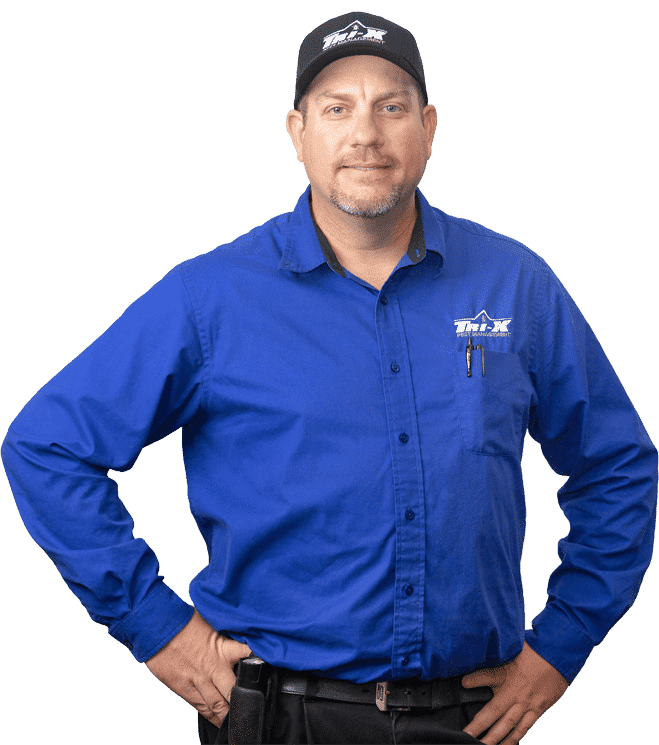 We know, there are a ton of Las Vegas pest control companies in the Las Vegas area. It can be hard to find one that's reliable and offers a fair price. Rest assured, with Tri-X Pest Management you get both and all backed by a 100% Satisfaction Guarantee. We are proud to have the experience and customer service that sets us apart from the competition.
1. Our staff of pest control experts are friendly, knowledgeable, and fully licensed.
2. We understand the behaviors of ants, scorpions, cockroaches, rodents, spiders, pigeons, and all other pests.